Contact customers.
Guided by our business partners to analyze our customers' needs and issues before drawing up budgets and offers.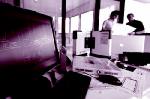 Project.
Every single detail is carefully designed and developed further before being implemented.
Material warehouse.
Large range of materials and accessories always available at our warehouse.
Production and processing.
The production is made with high technology machinery installed at automated lines.
Let us not forget our origins with the art of craftsmanship
Assembly and installation.
Assembly and installation are carried out by employees directly managed by the company.
Assistance.
The assistance is given to employees directly managed by the company: the guaranteed continuity at your service.